Montreal, Canada is one of my favorite cities to visit. With excellent food, a charming old town, and plenty to do (even in winter!) Montreal is always a good idea! Wondering where to stay in Montreal? This post will cover the nine best places to stay in Montreal Canada.
Since It would be difficult for one person to stay in all these locations, the Montreal accommodations recommended below are a combination of places I've stayed, my trusted friends have stayed, or I've considered staying based on my research. I'll never recommend any places I wouldn't personally book.
Map of the Best Places to Stay in Montreal, Canada
Sonder Apartments, Richmond Ave.
Highlights: Full-sized apartment with kitchen, excellent customer support, long-term stays available, several locations around Montreal. Read Sonder Reviews Here!
We stayed in the Sonder Apartments in Griffintown for several weeks and loved it! Seriously, if I could pack this apartment up and travel with it, I would. Sonder apartments are a great choice if you want a beautifully designed, spacious, full-sized apartment during your stay in Montreal.
Even better, there are several sonder locations in Montreal with high-quality service. We stayed at the Sonder in Griffintown but there are also locations in Quartier des Spectacles, The Village, and other desirable neighborhoods.
Since you get a full apartment instead of just a room, you can expect a full living room with a pull out couch, kitchen, eating area, bedroom, and bathroom. Our unit even had a washing machine. The Griffintown building was still under construction when we were there but they had a gym and had an excellent reception area in a modern building.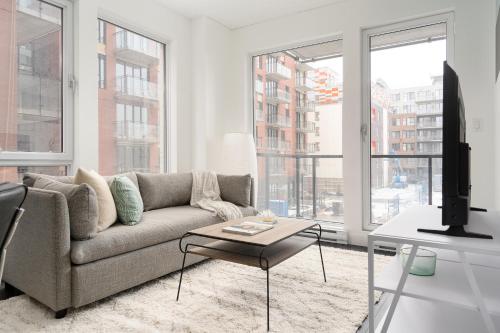 Courtyard Marriott Downtown Montreal
Highlights: Central downtown location, clean rooms, excellent staff, city views, gym, and pool on site. Read more about things guests love on Booking.com.
Another place where we stayed on a shorter trip to Montreal was the Courtyard Marriott Downtown. The location of this top Montreal hotel is ideal because you're extremely centrally located and directly across the street from the Desjardins complex. If you're traveling to Montreal in winter, this area is also well connected to tunnels that go to the metro station Place-d'Armes.
In addition to an excellent location, the Courtyard Marriott Downtown Montreal hotel had a pool and gym with breathtaking city views. There is a restaurant on-site and an outdoor terrace you can enjoy if the weather is nice.
Guests rave about clean and spacious rooms, as well as the helpfulness of the staff. If you want to stay downtown within walking distance to many attractions, this is one of the best hotels in Montreal.
Le Westin Montreal
Highlights: Top-notch location well connected to tunnels, attached to the Palais des Congres convention center, pet-friendly, restaurant on-site, see what guests have to say here!
The Westin Montreal Hotel is in an awesome location for exploring downtown or Old Port. If you're in town for an event at Palais des Congrès, then you're in luck. The Westin Montreal is connected to the popular convention center and to the underground tunnels for added convenience.
Guests have access to a luxurious fitness center, pool, and restaurant. Le Westin even has pet-friendly rooms so your furry friends can come along too!
M Montreal Hostel
Highlights: Hostel dorm rooms and private rooms available, beautiful rooftop patio with hot tubs, breakfast included, located in a popular neighborhood. See what else guests love by reading reviews here.
The M Montreal Hostel is located between the Latin Quarter and Gay Village close to Sainte-Catherine Street. This fun Montreal Hostel features a shared kitchen and dining space, lively bar, rooftop patio, and the choice between private rooms or shared dorm rooms.
Because of the price, location, and overall atmosphere, guests rate the M Montreal Hostel a great value for the money.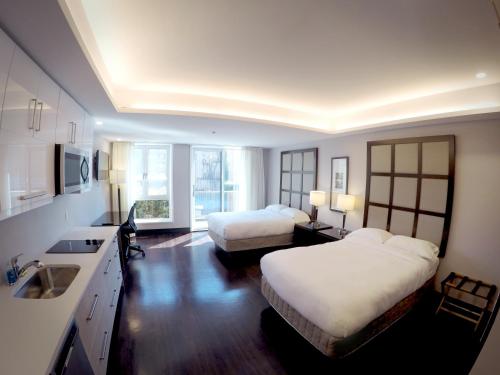 Hotel Le Crystal Montreal
Highlights: Excellent downtown location near the Bell Center, luxury pool, beautiful rooms, see room options on Booking.com here.
The Hotel Le Crystal Montreal looks like a dream! Located in downtown near the Bell Center, this hotel is a great pick if you want shiny new facilities and modern touches. Rooms are spacious and feature a kitchenette, which is perfect if you're visiting Montreal for a bit longer.
You'll be able to get to plenty of Montreal attractions within walking distance, but with a pool, gym, and spa all on-site, you might not want to leave at all!
Hôtel Alt Montréal
Highlights: Central location to downtown and Griffintown, eco-friendly, modern amenities, excellent online reviews.
The Hotel Alt Montreal is a top place to stay in the trendy neighborhood of Griffintown. It's an easy walk to the Bonaventure Metro Station and to Old Port, Montreal. Guests love the clean and modern rooms, as well as the in-room coffee machines that make mornings much smoother.
For the price point and location, the Hotel Alt Montreal is a great value for money, with many guests saying that they stay here again and again.
Hotel Épik Montréal
Highlights: Old Port location, beautiful room design, a coffee shop on-site, some rooms include free breakfast. Read more about Hotel Epik Montreal here.
If you're looking for historic charm in Old Port, the Hotel Epik Montreal is for you! This hotel is inside an older building and they've done a great job preserving those unique historical touches. Rooms feature exposed brick and stonework, juxtaposed against clean, modern amenities.
Relax on the outdoor terrace or in the downstairs coffee shop while you enjoy your stay in the heart of the historic district. Hotel Epik Montreal is a place to stay with charm.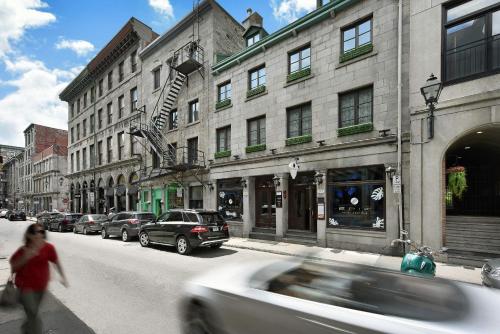 Hôtel Uville Montréal
Highlights: Great location near Old Port, boutique hotel with Montreal-themed decorations, see the historical touches here!
Experience Montreal from the 1960s and 1970s! Hotel Uville Montreal is another fantastic place to stay if you want a Montreal accommodation with charm and unique touches. This boutique hotel pays tribute to all things Montreal, with special decorations and thoughtful touches throughout the property.
Most reservations include breakfast which is delivered to the room each morning. Guests love the museum-style rooms, bar and common areas, and staff.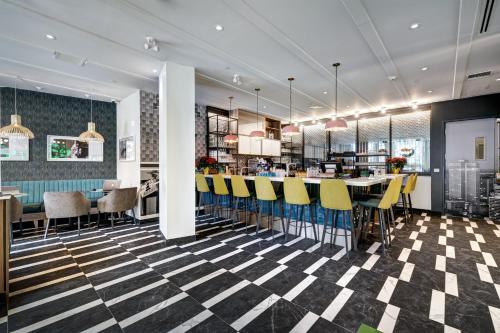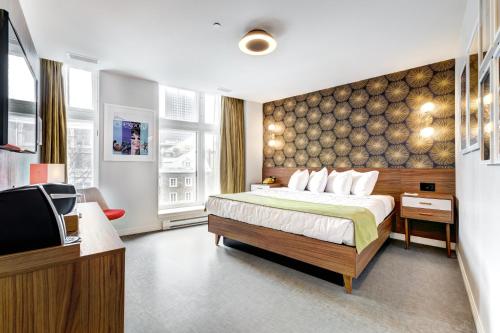 Hôtel Le Germain Montréal
Highlights: Located near the main shopping area in downtown, breakfast included with most bookings, spa, and restaurant on-site, see what else guests love here!
With a free espresso bar and luxurious spa services available on-site, this Montreal hotel is a great place to treat yourself without breaking the bank!
In addition to clean, modern rooms, the Hotel Le Germain Montreal is walking distance to shopping, restaurants, and other top Montreal activities. You can easily get to McGill Metro Station, Eaton Centre, and Rue St. Catherine in less than 10 minutes on foot.
Heading to Montreal? Don't forget to check out my Montreal weekend itinerary for winter!
Cover Photo by Rhema Kallianpur on Unsplash