Touring the Komodo Islands was a definite highlight of my first year of full-time travel. Who wouldn't love hiking with deadly reptiles, snorkeling with manta rays, and sunbathing on the top deck of a boat while cruising around remote islands? But before I went on my epic Komodo Islands tour, I had to figure out where to stay in Labuan Bajo, Indonesia.
Labuan Bajo is a fascinating little fishing village on the island of Flores, Indonesia. Even though it's only an hour away from bustling Bali, Labuan Bajo feels far more remote. The landscape, which made me seriously question whether or not I was in Jurassic Park, was so severe I couldn't take my eyes off it.
The main reason people travel to Labuan Bajo is to tour Komodo National Park and the surrounding islands. This port village on the island of Flores is the hub for all Komodo tourism.
If you want to see the Komodo Dragons, go on guided snorkeling adventures, or learn to dive in some of the most vibrant reefs in Indonesia, you'll likely need a place to stay in Labuan Bajo, Indonesia. If you're trying to find the best hotel in Labuan Bajo, this post is for you!
Since It would be difficult for one person to stay in all these locations, the Labuan Bajo accommodations recommended below are a combination of places I've stayed, my trusted friends have stayed, or I've considered staying based on my research. I'll never recommend any places I wouldn't personally book.
Map of where to stay in Labuan Bajo, Flores Indonesia
Best Hotels in Labuan Bajo
Labuan Bajo may be a small town, but there are plenty of beautiful hotels to choose from. The following Labuan Bajo accommodation options will definitely make your stay in Flores, Indonesia memorable.
Highlights: Pool, sundeck, amazing sea views, excellent reviews from previous guests. See Reviews here.
With fantastic guest reviews and the opportunity to stay in luxurious beachfront villas, the Plataran Komodo Beach Resort is definitely one of the top places to stay in Labuan Bajo, Indonesia.
There is a bar, restaurant, spa, and gym on-site for guests to enjoy. The front desk can organize exciting tours and activities like snorkeling, kayaking, and excursions to nearby islands.
Highlights: Stay on a private island in a beach bungalow! Amazing location and atmosphere. Read more reviews for Le Pirate Island, Labuan Bajo, here.
Have you ever dreamed of sleeping in an open-air beach bungalow on a secluded island? Well, now you can at the Pirate island! Le Pirate Island is more than just a place to stay. It's a full-blown experience in itself.
Spend the day snorkeling in clear water or sunbathing on the white-sand beaches. Then, crash for the night in a rustic bungalow that lets you stay comfortable while being close to nature.
Le Pirate Island is a bit remote (which is part of the fun!) so you'll need to take a boat shuttle to get there and to get back to the mainland. From the excellent reviews on booking, it sounds like most guests never want to leave!
Highlights: Two swimming pools, spa, restaurant, bar, spacious rooms, delicious food. One of the best hotels Labuan Bajo has to offer, according to reviews! See what previous guests are saying here.
The luxurious Puri Sari Beach Hotel in Labuan Bajo offers guests the perfect blend of jungle seclusion and sea views. Since it's located a bit outside the main town, Puri Sari is a quiet oasis. That said, if you do want to head to Labuan Bajo town and explore, there's a handy hotel shuttle you can take to get there.
Guests rave about the private beach, tasty meal options, and attentive staff. If you're looking for a little slice of paradise while exploring Labuan Bajo, Puri Sari might be the perfect spot for you.
Highlights: Infinity pool with sea view, jungle surroundings, free transfer to the town, excellent sunrise and sunset spot. See more guest reviews here.
Looking at the pictures of Villa Domanik makes me want to book a flight to Labuan Bajo right now just to stay there! When it comes to natural beauty and jungle surroundings, the Villa Domanik is one of the top hotels in Labuan Bajo, Flores.
Located just ten minutes from Labuan Bajo with excellent views of the sea, Villa Domanik is one of booking.com's best selling places to stay in Labuan Bajo! There is a free shuttle service into the town but you might not want to leave once you see the infinity pool and spacious bungalows nestled in the lush jungle.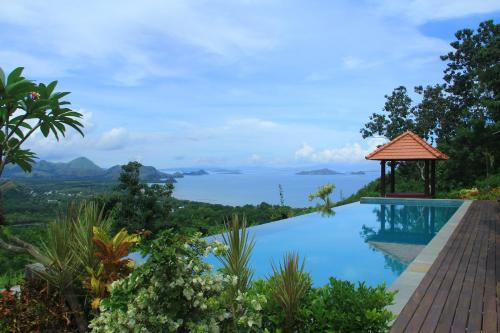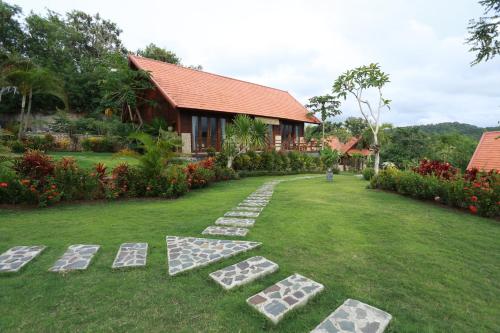 The Best Labuan Bajo Hostels
If you're traveling on a budget or just want a chance to meet other travelers, hostels are a great choice. In Labuan Bajo, there are several comfortable hostels that cost less than $10 USD per night, so your wallet will definitely be happy!
Highlights: Fun atmosphere, organized activities, comfortable dorm rooms with privacy curtains, plenty of showers and toilet stalls, on-site restaurant and bar
I stayed at the La Boheme Hostel Labuan Bajo the night after my Komodo Islands tour and I loved it! The La Boheme Bajo Hostel is a sprawling compound and it's always lively, even during the low season. If you're looking for Labuan Bajo budget accommodation, this hostel is a good pick!
They have organized game nights, decent WiFi, a bar, and an on-site restaurant. As the name suggests, the decor is colorful and Bohemian – there is no shortage of beanbag chairs and rainbow-painted murals.
I stayed in a dorm room with a shared bathroom. The accommodation was comfortable and simple. There weren't any frills, but I still felt like I got great value for my money at this colorful Labuan Bajo hostel.
Highlights: Epic view of the sea and the town of Labuan Bajo, free shuttle to town, organized evening activities, affordable prices
The Ciao Hostel Labuan Bajo is a budget-friendly accommodation option with an excellent view! It's set high up on the hill away from the main street so you'll have an excellent view of the harbor and a bit of peace and quiet.
Guests can choose between semi-open-air dormitories or climate-controlled rooms. Regardless of what you choose, you'll probably want to spend as much time as you can gazing out over the islands from this top vantage point.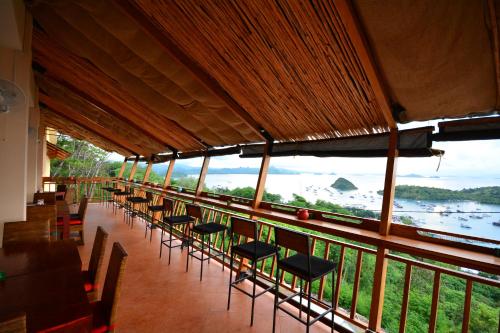 Highlights: dive center, restaurant, swimming pool, central location, inexpensive room options, good value accommodation in Labuan Bajo
Dragon Dive Komodo Hostel is bright, clean, and easy on the budget. You can choose between bunk rooms or private rooms and all guests have pool and beach access. Dragon Dive Komodo also does dive courses, daily dives, and liveaboard options.
Guests love how close this hostel is to town, which make the Dragon Dive Komodo Hostel one of the best cheap hotels in Labuan Bajo if you plan to do tours.
Looking for some more Komodo inspiration? Check out my massive post about the three day Komodo island tour that changed my life!
Planning a Trip to Indonesia?
Head to Booking.com or Agoda.com for the best deals on places to stay in Indonesia. Check out this post to decide where to go in Bali. You can also click the links to read about my favorite places to stay in Canggu and Labuan Bajo.
If you're traveling around Indonesia, this post has some helpful tips!
Check out these Indonesia travel blog posts for travel inspiration and tips!
You can also see the full list of things to do in Indonesia here!