Bali is one of those destinations I find myself visiting again and again. The weather is fantastic, the natural beauty is spectacular, and Bali is home to some of the best surfing, hiking, diving, yoga, and food around.
As you plan your trip, you might be wondering where to stay in Bali. This guide will cover some of the best areas of Bali for all kinds of travelers, as well as specific hotel recommendations.
Since It would be difficult for one person to stay in all these locations, the Bali accommodations recommended below are a combination of places I've stayed, my trusted friends have stayed, or I've strongly considered staying based on my research.
Map Of Where To Stay In Bali
Bali is a must-see place for travelers who love the great outdoors. Whether you plan to find perfect waves, take breathtaking hikes, discover the marine life of Indonesia, or simply relax on a beautiful beach, Bali delivers.
The map below will show you some of the best places to stay in Bali depending on your interests and travel style. While I believe these are all amazing places to stay in Bali, it would take a long time to see everything so you'll probably have to prioritize just a few locations.
Read about each place below to help you choose the best area in Bali to stay for your trip.
Where To Stay In Kuta Bali
Kuta Bali is the very first part of Bali I visited and it will forever hold a place in my heart. Kuta is one of the busiest parts of Bali and it's very touristy. Here, you can find endless restaurants, shopping malls, and some of the best nightclubs in Asia.
Many travelers pass through here, so Kuta can be one of the best areas to stay in Bali if you want to go out and meet people. This is also the place to be if you're coming to Bali for the party scene.
Kuta is reasonably walkable and you can get from the main street to the beach easily. The beach at Kuta Bali is white sand and great for beginner surfers. In fact, learning to surf is one of the top things to do in Kuta Bali.
Like the town, the beach at Kuta is busy. That said it's well worth it to grab a beach chair and enjoy a coconut or two while watching the sunset at least once during your time in Kuta.
In Kuta Bali, being central is key. The streets are crowded so riding a motorbike around Kuta would be a bit of a nightmare. Luckily, there are plenty of great hotels in Kuta Bali that are within walking distance to the main street and beaches.
Kuta Bali Highlights
Bendesa Accommodation, Kuta Bali
Bendesa Accommodation is the first place I stayed in Kuta and it is a great choice if you want something simple, comfortable, and easy on the budget.
Bendesa has air-conditioned rooms, a pool area and bar, and breakfast on site. It's walking distance to the beach and the main street, making this one of the best inexpensive places to stay in Kuta Bali and an easy home base.
Click here to check prices for Bendesa Accommodation on Booking.
Amnaya Resort Kuta
Relax in style in this highly rated resort just outside of downtown Kuta. The Amnaya Resort Kuta has a beautiful pool, lush greenery, and spacious air-conditioned rooms.
Guests of the Amnaya Resort Kuta love the spa and restaurant facilities on-site. With high reviews for staff and overall atmosphere, this is definitely a top place to stay in Bali Kuta.
Check Prices for the Amnaya Resort Kuta here!
Where To Stay In Seminyak Bali
Just a bit farther up the beach from Kuta, you'll find the stylish neighborhood of Seminyak Bali. With a reputation for being a bit more high-end and famous for shopping, Seminyak is quieter than Kuta but still has many conveniences and plenty to do.
Take yoga classes, hang out at the famous Potato Head Beach Club, or learn to surf on one of the best sandy beaches in Bali. You can do it all in Seminyak!
Seminyak Bali Highlights
Akasha Luxury Villa
I stayed in the Akasha Luxury Villas while I was in town for a friend's wedding and we never wanted to leave! We had our own luxury kitchen and living area, spacious rooms, spa-like bathrooms, and a private pool and cabana.
The Akasha Luxury Villas are within walking distance to the beach and several delicious restaurants, so you're right in the heart of the action in Seminyak. Looking for more relaxation? You can have spa services or meals prepared in the villa for you!
If you're traveling with a family or a group of friends, the Akasha Luxury Villa is one of the best places to stay in Seminyak Bali.
Kashantee Village
Kashantee Village is one of the best places to stay in Seminyak for excellent amenities. With a luxurious pool, closes proximity to the beach, spacious rooms, and fabulous ratings on Booking.com, Kashantee Village is an oasis hotel in Seminyak.
See reviews for the Kashantee Village here!
Where To Stay In Canggu Bali
Canggu is an awesome area of Bali to stay in! On all of my recent trips to Bali, I've spent some time in Canggu. The food, atmosphere, and abundance of coworking spaces and cafes keep me coming back again and again.
Known as a foodie hub and digital nomad hotspot, Canggu Bali is quieter than Kuta never boring. Canggu is also a surfing paradise with surf breaks for beginners and more advanced surfers alike.
Canggu has black sand beaches, boutique shopping, and a strong food and wellness scene. Canggu is the best place to stay in Bali for solo travelers and digital nomad travelers, given the abundance of internet cafes, frequent social gatherings, and affordable accommodation.
Canggu Bali Highlights
Silvy Guest House
Heading to Canggu Bali? You definitely want to check out the Silvy Guest House! There are a few features that make the Silvy Guest House stand out among the dozens of other amazing Canggu Bali places to stay.
First, the location of the Silvy Guest House can't be beaten. Located right in the heart of Canggu near Luigi's Hot Pizza, Silvy is within walking distance to several top restaurants and the beach. Second, the staff running the Silvy Guest House was top-notch. We loved our host and she was so accommodating and welcoming.
Finally, the rooms at Silvy were very comfortable and spacious without breaking the bank. We also had access to a communal kitchen. If you want to be centrally located with amazing staff, this is the spot for you. For budget travelers, this is one of the best hotels in Bali.
Frii Bali Echo Beach, Canggu
Located just a few minutes from the famous Echo Beach in Canggu, the Frii Bali Echo Beach Hotel is another great option for your stay in Canggu.
My favorite feature is the pool that runs the length of the hotel. You can even select a room that opens up directly into the pool! This hotel also offers a rooftop hang-out area and restaurant with excellent views of Canggu.
See more places to stay in Canggu Bali in this post.
Where To Stay In Ubud Bali
Located in the central part of the island of Bali, Ubud is famous for being a spiritual and natural epicenter. With a world-class yoga scene, miles of jungle beauty, and the Ubud Monkey forest at your fingertips, Ubud is the perfect place for those looking to reconnect with nature and relax among wildlife.
Highlights in Ubud
Alam Shanti, Ubud Bali Hotel
Elegance and authenticity are key at the Alam Shanti Ubud homestay. Alam Shanti is just a five-minute bike ride from the main part of town, but it feels like you're in a secluded jungle paradise.
With a large swimming pool, spacious rooms, and included breakfast, it's no wonder guests call this relaxing sanctuary one of the best places to stay in Ubud Bali.
Meruhdani Boutique Hotel Ubud
If you want to be closer to the city center, check out the highly rated Meruhdani Boutique Hotel Ubud. The pool, grounds, and amenities are of high quality. Guests also love the ability to book tours and rentals directly through the hotel.
For travelers who would like to be able to walk to the monkey forest and downtown Ubud, the Meruhdani Boutique Hotel Ubud offers a quiet but convenient option.
Where To Stay In Uluwatu Bali
Uluwatu Bali is known for its cliff views, surfing, and jungle landscapes. It's also one of the most beautiful places to stay in Bali. Uluwatu is the best location to stay in Bali if you want a balance of land and sea activities.
Before you set off to Uluwatu, there are a few things to be aware of. Uluwatu isn't walkable, so you'll need to arrange alternative transportation like renting a scooter. Grab and GoJek won't pick up people in Uluwatu, so you won't be able to call a ride that way.
On the plus side, Uluwatu beaches are much quieter than the beaches of Kuta or Canggu, and the roads usually aren't too crowded. Uluwatu is a lot more spaced out so it's easier to find accommodations that feel private and connected to nature.
Uluwatu Highlights
Click here to read my full guide to Uluwatu!
Telaga Sari Guest House
Telaga Sari still holds a spot in my heart as one of my favorite accommodations in my travels. It's set back from the busy areas of Uluwatu so it's very quiet, the pool is lovely, and the WiFi worked great!
For the price I paid, the Telaga Sari Guesthouse is an excellent deal. The staff was wonderful and they were able to help us arrange a scooter rental. There is also a delicious restaurant on site that has Indonesian and western food available throughout the day.
Telaga Sari is one of the nicest places I've stayed as a budget traveler. I recommend it to all my friends, especially those who need good WiFi while traveling.
The Elementum, Uluwatu Bali Hotel
The Elementum has a swimming pool, stylish rooms, and amazing views of the nature of Uluwatu. Guests love its proximity to the beaches, design elements, and on-site restaurant.
All rooms have air conditioning, private bathrooms, and ample outdoor space to relax. Reviewers rave about the included breakfast and level of hospitality at The Elementum Hotel in Uluwatu.
Keramas Bali Places To Stay
If you're an experienced surfer, you've probably heard about the famous Keramas Surf. The Keramas surf break will excite anyone who loves catching waves, and if you plan to head to Keramas, you definitely need to check out the Komune Resort.
The Komune Resort is one of those places that I could stay for ages. Even though there isn't much to do in Keramas aside from the surf break, the Komune Resort kept my partner and myself (a surfer and a non-surfer) entertained for days. In short, The Komune Resort won't disappoint.
Keramas Bali Highlights
The Komune Resort and Beach Club: The Best Hotel To Stay In Bali
When my partner and I daydream about our next trip to Bali, we always say "We need to go back to the Komune." The Komune is definitely one of the best places to stay in Bali and it's particularly awesome if you happen to be a surfer since it's located directly on the Keramas Surf Break.
If you're not a surfer, you'll still have plenty of fun watching the water sports from your sunbed by the large infinity pool. You can also head to the spa for a massage or eat to your heart's content in the beachfront restaurant and bar.
Traveling with kids? No problem! There is an elaborate kids club and on-site childcare facilities. I can't say enough good things about the Komune, and you can read more good reviews here!
Where To Stay In Sanur Bali
Located on the southeastern side of the island of Bali, Sanur is a quiet seaside village. This Bali destination is known for being family-friendly and a great place to relax.
During the day, walk along the beaches to see the local fishing boats and catch a glimpse of Nusa Penida Island in the distance. In the evening, grab a bite at the Pasar Sindhu Night Market or one of the many beachfront restaurants.
Sanur is also a great place to stay in Bali if you plan to do day trips to Nusa Lembongan or Nusa Penida.
Sanur Bali Highlights
Alantara Sanur by Pramana
The Alantara Sanur by Pramana is a clean, spacious, and charming Balinese resort in Sanur. This property features a gym, a restaurant, and a large swimming pool with pool loungers.
They consistently receive high reviews for their staff, spa, and room design. They also offer a handy shuttle service to the beach and town, which allows you to enjoy the private location without missing out on Sanur.
Read more about why the Alantara Sanur is one of the top places to stay in Sanur Bali here!
Villa Pantai Karang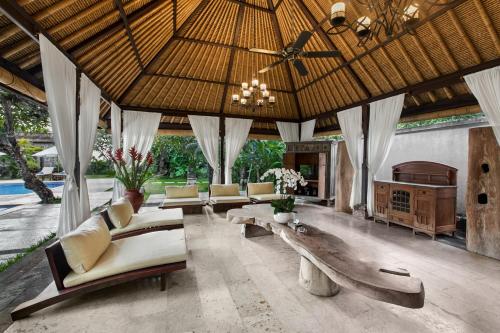 If you're looking for fun in the sun, The Villa Pantai Karang has you covered! They offer a large pool and a private beach area complete with sun loungers and umbrellas, all within walking distance of the main Sanur boardwalk.
With less than ten rooms on the property, the Villa Pantai Karang has that special boutique hotel feel. Guests love the included breakfast, proximity to town as well as the beach, and the staff.
What's The Best Place To Stay in Bali Indonesia For Different Travelers?
You might be wondering, "Where is the best place to stay in Bali for me?" Let's take a look at the best areas for different types of travelers.
Best Place To Stay In Bali For Couples
There is no shortage of romantic places to stay in Bali. If you're wondering where to stay in Bali for couples, check out Uluwatu. There's nothing more romantic than watching the sunset over the cliffs with your loved one.
Planning a honeymoon in Bali? The Komune Resort and Beach Club in Keramas might be a great fit!
Best Place To Stay In Bali For Families
Sanur, Bali is one of the best places to stay in Bali with kids. It is more laid back than some of the other beaches but still has plenty to do for families. Sanur is also one of the best quiet places to stay in Bali.
Best Place To Stay In Bali Indonesia For Solo Travelers
Canggu and Ubud are all awesome spots for solo travelers in Bali. Choose Ubud if you want to study yoga and wellness or if you want to be close to the rice paddies. Choose Canggu if you want to learn to surf, relax on the beach, or do some remote work.
Where To Stay In Bali For Beaches
Seminyak and Kuta have classic white sand beaches with plenty of beach chairs, beach restaurants, water sports rentals, and luxurious beach clubs.
Uluwatu is the best place to stay in Bali if you want cliffside beaches and fantastic beach views, though many of the Uluwatu beaches are a bit more remote without waterfront amenities.
Related Post: The Ultimate Uluwatu Bali Travel Guide
Where To Stay In Bali For Surfing
Beginner surfers should check out Kuta or Seminyak since these beaches have sand on the bottom and plenty of places to take a lesson.
Intermediate surfers will be most happy staying in Uluwatu or Canggu. Advanced surfers should head to Uluwatu or the world-famous Keramas surf break.
Best Area To Stay In Bali For Yoga and Meditation
If you're heading to Bali for a yoga or meditation retreat, Ubud is the place to be. Ubud is known for being a spiritual hub of Bali so you'll find plenty of places to get in touch with nature, practice yoga, and embrace meditation.
Best Places To Stay In Bali For Digital Nomads
Canggu is the place to be if you're planning a longer stay in Bali. It's also a popular hub for digital nomads and has dozens of beautiful cafes and coworking spaces. You can read more about places to stay in Canggu in this post.
Best Places To Party In Bali
Kuta Bali is the top place to party in Bali. With several world-famous nightclubs all on one stretch of road, you'll be able to find places to party any time, day or night in Kuta.
Best Places To Stay In Bali For Shopping
Seminyak is the best area to stay in Bali for shopping. If shopping and high-end experiences are what you're after, Seminyak is the place to be.
Best Place To Stay In Bali For First Timers
If you're a first-timer heading to Bali, I'd recommend staying in Canggu or Ubud, depending on if you prefer the beach or jungle. These two areas have so much to do, delicious food options, and offer a great introduction to this magical island.
If you're looking for more information about planning your first trip to Bali, Kriszti from She Wanders Abroad has an in-depth Bali travel guide for first-timers.
Things To Know Before You Go
Where is the Bali Airport? When flying into Bali, you'll arrive at Denpasar airport. Denpasar is in the southern part of Bali and there are set rate taxis that will take you to the main areas of Bali.
How long can I stay in Bali? When you land, you can get a free visa on arrival that is good for 30 days. You can also purchase an extendable visa that's good for 30 days and can be extended for an additional 30 days. The extendable visa costs around $35 and there will be additional fees associated with the extension itself.
How do I get around in Bali? Gojek or Grab App can be used for taxis, similar to Uber, but some parts of Bali (like the airport) don't allow these services. If you need to arrange a taxi independently, you can have your accommodation host do this or arrange it through a third party like Get Your Guide.
What currency should I use in Bali? You'll need to have cash in Bali since many restaurants and accommodations in Bali don't take cards. Visit an ATM attached to a bank to take out Indonesian Rupiah, the local currency. I'd also recommend going to an ATM inside the airport when you first arrive so you'll have cash for a taxi to your first destination.
How long does it take to travel around Bali? Traveling between the main places to visit in Bali can take a long time due to traffic. Even though they might look close together on the map, I wouldn't recommend planning too many travel days as it can take quite a while to get from place to place.
Planning A Trip To Bali, Indonesia?
Check out these Indonesia travel blog posts for travel inspiration and tips!