On a tiny secluded cove off the Pacific Coast of Panama, there's a dreamy beach town called Playa Venao. I'd never heard of Playa Venao before my trip to Panama, but after drolling over the pictures online I decided to gamble and book a two weeks stay. This Playa Venao, Panama travel guide will cover what you need to know to plan your own tropical getaway.
About Playa Venao, Panama
Playa Venao is said to be one of the best surf spots in Panama but it's still relatively unknown. The atmosphere is laid back and most travelers come to learn to surf or just enjoy the beach.
According to one of the many accomplished surfers working at my hotel, the shape of the bay makes Playa Venao a great place for both beginners and advanced surfers. While one side of the bay has waves that are way too scary for me, the other side has excellent newbie conditions.
It takes about five hours to get to Venao from Panama City and once you're here, you get the feeling that you're off the grid. There aren't many shops or restaurants, though the ones you will find dotting the beach are delicious!
Overall, Playa Venao just has one of those "I never want to leave" vibes.
Where to Stay in Playa Venao
A big part of that "can I stay forever?" feeling happened because of our awesome accommodation.
Even though Playa Venao is so small you could walk the length of the entire town in about 10 minutes, there is an impressive selection of accommodation options. While it's hard to go wrong with so many choices just steps from the beach, these were a few stand-outs.
Selina Playa Venao
My top recommendation for where to stay in Playa Venao is called Selina Playa Venao. Even though it's technically considered a hostel, they have several types of rooms for all kinds of travelers.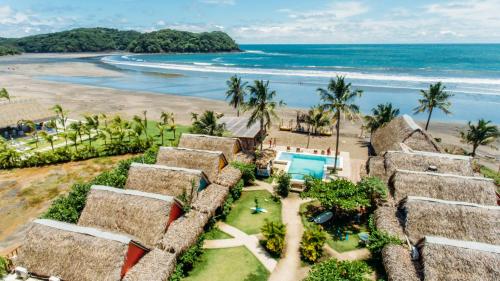 You can choose to stay in a bunk bed, a glamping tent, a private room, or a family-style suite. Guests come from all over the world and from all walks of life. You'll find backpackers, families with small children, retired travelers, surfers, and honeymooners.
The amenities and atmosphere are really what set the Selina Playa Venao hostel apart. Tropical plants cover the grounds and there is a pool, restaurant, bar, surf shop, and coworking space. Selina organizes activities throughout the day like yoga, arts and crafts, surfing lessons, and volleyball games.
Selina is pet-friendly so you can always find a furry friend around. With comfortable amenities just steps from the beach, we never wanted to leave. You can read my full review of the Selina Playa Venao here!
El Sitio Hotel
El Sitio is another perfectly located Playa Venao hotel right on the beach. It's a short walk down the beach from Selina and offers a delicious on-site restaurant, a lighthouse, a surf shop, and a large kids area.
At the Hotel El Sitio Playa Venao, you can choose from standard hotel rooms, suites, or family houses. Enjoy surfing lessons and tours during the day and entertainment at the outdoor bar at night.
Eco Venao Lodge
The Eco Venao Lodge is an eco-friendly choice surrounded by forest. It's just steps from the beach and offers traditional hotel rooms as well as larger family-style cabanas.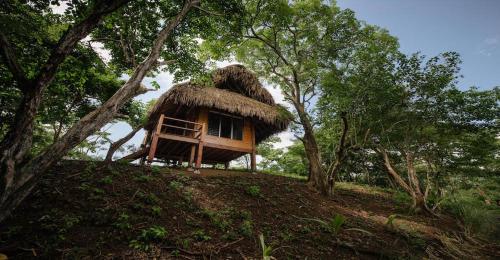 Guests rave about the views, the amenities, the activities, and the on-site restaurant, Panga. For anyone who wants to get back to nature, Eco Venao Playa Venao is the way to go.
Things to do in Playa Venao Panama
Even though Playa Venao is tiny and relatively secluded, you won't be bored. Below are some of the best things to do in Playa Venao no matter how long you're planning to stay.
[irp]
Take Surfing Lessons
Even though I tried surfing in Bali, I still consider myself a ridiculously inexperienced beginner when it comes to all things surf. For me, surfing usually looks more like a face full of sand after an ungraceful belly flop.
So when I saw the pastel-colored tiki shacks decorated with "Surf Lesson" signs, I was a bit nervous. I knew I needed to give it another go, but I worried about exactly how many sandy cartwheels I'd perform at break-neck speeds in the process.
As usual, I shouldn't have been so worried. The conditions for Playa Venao surf were perfect for my beginner scared-y cat self and after one day, I was able to go out all by myself and even catch a wave or two!
If you actually know what you're doing on a board, you'll like Playa Venao also. Just walk a little farther down the beach and the waves get bigger and more exciting.
You can take surf lessons and rent boards at several spots along the beach. At Selina where I rented my board, the starting rate is $20/day but the price drops if you rent for multiple days. I ended up paying $45 for 3 days.
Lessons cost around $40. At Selina, this includes the board rental for the day as well.
Take a Day Trip to Iguana Island
You know I love reptiles! As soon as I saw the flier for the Iguana Island Tour, I knew I had to go! We did the Iguana Island Tour through Selina which you can book in advance or in person when you arrive.
The tour includes your transportation from Playa Venao to Playa Arenal then a boat transfer to Iguana Island. There, you'll spend time among some of Panama's most impressive wildlife.
Hike to the Viewpoint Playa Venao
When you need a break from the beach, you can take a short jungle hike to the Playa Venao viewpoint and waterfall. Start by heading to the Eco Venao Hotel. From there, the trail has signposts that will guide you to the waterfall and lookout point.
Pamper Yourself at the Eco Venao Spa
If you need to unwind after a long surf or just want a bit of pampering, the spa at Eco Venao fits the bill. You can choose from different massages lasting either 60 minutes or 90 minutes at their peaceful Nourish Spa.
Practice Yoga at Sunset
Is there anything more relaxing than a sunset yoga session? Yoga is popular around Playa Venao (probably because of all those sore surfing muscles!) and you can find classes almost every day.
Selina does sunset yoga almost every afternoon at around 5:30 pm for $5. Daily yoga is also offered for $5 at Beach Break Surf Camp.
Get Active at the Beach Break Surf Camp Fitness Center
Travel is a great way to try new things, and you can do just that at the Beach Break Surf Camp Fitness Center. Learning Brazilian Jiu-Jitsu, Yoga, or Muay Thai kickboxing compliments your pool lounge sessions perfectly!
Go Horseback Riding on the Beach
You can book a horseback riding trip with a guide from the Eco Lodge Venao. Ride around the Eco Lodge property or down on the beach. We always saw people riding at sunset – the perfect way to end the day.
Places to Eat in Playa Venao
Despite the small size, the food scene in Playa Venao packs a punch. After two weeks of trying almost every restaurant in town, we came to the conclusion that every meal was good, and every meal cost about $10.
The following restaurants were some of my favorite places to eat in Playa Venao:
Cafe y Pasteleria Argentino: They have filling empanadas for $3 and I ate breakfast here almost every morning.
Coleos Cafe and Restaurant: This Mediterranean spot has a fantastic hummus appetizer that I'm still dreaming about!
El Sitio Restaurant: This beachfront restaurant attached to El Sitio has excellent burgers and a fresh green papaya salad that I ate at least twice.
Pizza Gavilan: Sometimes you just need a classic pizza dinner. Gavilan didn't disappoint.
Taco Flow: Taco Flow is always a crowd-pleaser. It's a bit hard to find from the beach since there isn't a sign but it's directly next to Selina.
Selina Restaurant: The restaurant attached to the Selina Hostel had a solid menu of breakfast options and regular foods. They have vegan and veggie options too. I really need to learn how they made such delicious marinaded cauliflower.
Getting to Playa Venao from Panama City
Since Playa Venao is a remote destination, getting there is a bit of a mission. If you're traveling from Panama City to Playa Venao, you have two main options.
Taking the Panama City to Playa Venao Shuttle with Venao Tours Panama
There is a shuttle van that runs between Panama City and Playa Venao daily. It costs $40 per person for a shared shuttle and takes about 5 hours. If you're traveling in a larger group or family, you can also pay $250 to book the shuttle van privately.
To take the Playa Venao shuttle, sign up with your date and preferred pick up location on the Venao Tours website. On the day of your transfer, you'll meet at the pickup location in the morning and pay in cash.
Going from Panama City to Playa Venao by Bus
You can also take a combination of public buses and taxis to get to Playa Venao. This option will take a lot longer than the shuttle.
In Panama City, go to the Albrook Bus Terminal. You can get there by taking the subway.
Take the bus from Panama City to Las Tablas
Take the 1:30 pm bus from Las Tablas to Playa Venao
If you aren't able to catch that bus, you can also take a taxi to Playa Venao
When to Visit Playa Venao Panama
Like most of Central America, Panama has a wet and a dry season.
According to the long-term Playa Venao residents working at our favorite beach bar, Playa Venao can have some extreme weather patterns. During the dry season from mid-December until the end of March, the weather is piping hot and rain is scarce.
From March to August, it's technically rainy season but the rain isn't continuous. You might get a few hours of rain a day, but it should let up quickly.
From August to December, the rain is very intense and it can rain non-stop for days at a time. This is especially true during October and November.
We visited Playa Venao during January. This was dry season and the days were hot and humid with an occasional breeze.
Playa Venao Travel Tips
Bring Cash
Many of the restaurants in Playa Venao only accept cash. Unfortunately, at the time I'm writing this there isn't an ATM in Playa Venao, so this can be a problem if you aren't prepared. If you do need cash during your stay, you'll have to go to the nearby town of Pedasi to get it.
You can take the shuttle from Selina Playa Venao to Selina Pedasi for $8/person. The shuttle runs round trip three times a day, once in the morning, afternoon, and evening.
Ask about the Fruit and Vegetable Truck
A fruit and vegetable truck comes to Playa Venao two times a week to deliver produce to the restaurants and hotels. Ask the front desk of your hotel when they should be coming so you can buy some delicious snacks for very affordable prices.
Get Groceries in Pedasi
If you want to prepare any of your own meals while staying in Playa Venao, consider doing a grocery run in Pedasi. There is only one grocery store/convenience store in Playa Venao and the selection is limited.
We did a Pedasi run halfway through our trip to go to the ATM, get some groceries, and explore the town. The prices at the supermarket were much lower than the Playa Venao mini-mart and there was more to choose from.
Final Thoughts on Visiting Playa Venao Panama
Playa Venao Panama is perfect for travelers looking for relaxed vibes and a slower pace of life. If your goal is to learn to surf, you'll be in paradise.
We ended up staying over two weeks and even though there aren't a ton of things to do, we never felt bored. Playa Venao is one of those special places where a surfboard, book, and beer is really all you need.