Where to stay in Canggu on any budget
When visiting Bali, there's a good chance you'll want to spend some time in Canggu. Known for its incredible food scene, rice paddy views, black sand beaches, and generally laid-back vibes, Canggu is a must-see spot for all Bali travelers. This guide will cover where to stay in Canggu Bali on any budget.
In my travels to Bali, I always find myself coming back to Canggu. Whether you're traveling solo and want to meet new friends or traveling with a partner and want to eat yourselves silly (both me, two seperate occasions), Canggu the place to do it.
While Bali is more expensive than other parts of Indonesia and other parts of Asia, you can still get an amazing value for your money on accommodation. No matter your budget, this guide has you covered for where to stay in Canggu Bali!
I've stayed in many of these accommodations, but because I'm just one person I haven't had a chance to make it to all of them yet. This list includes all the places I would stay based on their location, friend recommendations, and reviews across several hotel review sites. Basically, I've done the research for you to help you save time as you plan your next trip!
Cheap Places to Stay in Canggu Bali $
Canggu has tons of nice places to stay, even on a frugal budget. Bali is a bit more pricy than other parts of Indonesia and other tropical spots around Asia, but it's still possible to find great accommodation options.
If you're looking for cheap accommodation in Canggu, below are some of my favorite low-cost homestays, guest houses, and hostels.
Repag Wayan Hostel
Location: Canggu Echo Beach
Highlights: Excellent location, fast WiFi, dorms and private rooms available, budget-friendly accommodation in Canggu
This hostel really shocked me by how affordable it was and how good the location was. It's located just a few steps from Echo Beach and literally across the street from La Brisa beach club.
It's on top of a Greek restaurant so you know there's good food nearby and I loved being in one of the few walkable locations in Canggu. This hostel has dorms and private rooms. It also has some of the fastest WiFi I've ever had in a hostel.
Hideout Hostel Canggu
Location: Pererenan, Canggu
Highlights: Quiet Location, free yoga, pool and close to nature
This surf and yoga hostel is in a quiet neighborhood of Canggu away from the bustling downtown scene. You'll have to drive about 10-15 minutes to get into the main part of town but the hostel has scooter rentals to make that easy.
Hideout Hostel has a nice pool, a large garden area, and they're one of the only places in the area that offers free yoga classes.
Lay Day Hostel Bali
Location: Canggu, Bali
Highlights: Surfing, party atmosphere, bar, and social events
The Lay Day Surf Hostel in Canggu Bali is one of the top party hostels in the area so come here if you want to surf hard and play hard. With a lively bar open all day and regular group nights out on the town, you'll have no problem finding friends to party with at the Lay Day Hostel Bali.
This is the place to stay if you're looking for a more lively party atmosphere.
Best Accommodation in Canggu Bali, Midrange Budget $$
Not the hosteling type? No problem! The following midrange places to stay in Canggu Bali are the perfect balance of comfort, convenience, and affordability.
Silvy Guesthouse
Location: Batu Bolong Canggu
Highlights: Excellent hospitality, great central Canggu location, community kitchen, one of my personal favorite Canggu Hotels.
The Silvy Guesthouse is in an awesome location for Canggu. You might want a bike to get around, but you wouldn't need one. You're right on the main street but set far enough back to be hidden from most of the noise. You could easily walk to nightlife, amazing restaurants, and world-class surf in about 15-20 minutes.
The rooms at Silvy feel luxurious and there is a shared kitchen, courtyard, and refrigerator so you can take leftovers home. Coffee is available all day and the woman in charge is so kind and accommodating. Silvy is definitely one of my favorite Canggu places to stay.
Frii Bali Echo Beach
Location: Echo Beach Canggu
Highlights: Great reviews, rooftop relaxing area, pool
This hotel has great reviews across the board and is located close to town and the beaches. Guests rave about pool and rooftop at Frii Echo Beach Bali.
You can walk to the beach in just a few minutes or enjoy amazing views from your comfortable room. Perfect for those who want to be close to everything while still having a private retreat to come home to at the end of the day.
Bali Shanti Guest House Canggu
Location: Berawa Canggu
Highlights: Pool, communal kitchen, comfortable rooms, quiet location away from busy city center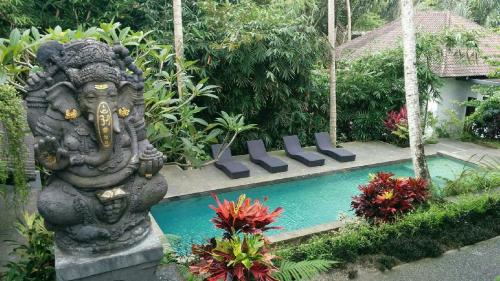 Avery from Anywhere and Averywere recommended the Bali Shanti guest house Canggu for long-term travelers who want a comfortable, quiet place to call home. This guest house is a bit off the beaten path but the quiet location makes it the perfect spot for a relaxing retreat.
With rice paddy views, a shared kitchen, reliable internet, a pool, and an onsite cafe, it's easy to call the Bali Shanti Guesthouse home. A bike is required if you stay here and while this might be a bit too far from town for short vacations, it's a great option for longer stays.
Where To Stay In Canggu, Deluxe Options $$$
If you're coming to Canggu with a larger accommodation budget, there are tons of beautiful spots for you to call home.
Tapa Tepi Kali Hotel
Location: Echo Beach
Highlights: Excellent reviews, excellent location, spa services, breakfast included, one of the top places to stay in Canggu Bali
This luxurious hotel has incredible reviews and a perfect location for exploring Canggu. It's walking distance to Echo Beach and plenty of restaurants, but when you see how nice the rooms and pool are you might not want to leave!
They offer spa services, yoga classes, cooking classes, and excellent facilities across the board. The best part? You'll get a first-rate stay with breakfast included! One of the best hotels in Canggu, Bali!
La Isla Villas Bali
Location: Berawa Canggu Bali
Highlights: Beautiful private villa, private pool, luxurious touches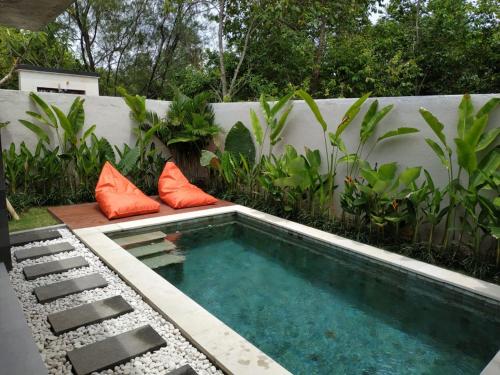 Ahhh the illusive Canggu Villa. That's the dream, right? To get your friends or family together and rent out an awesome Canggu Bali villa with sea views or rice paddy views, or any other amazing Bali views. The La Isla Villa Bali is a private one-bedroom villa with a private pool.
It includes all the modern comforts you could ever want and even has babysitting services available if you're traveling with kiddos. If you're looking for Canggu Bali Villas, this is a great one to check out!
Eastin Ashta Resort Canggu
Location: Old Mans Canggu
Highlights: Newly updated, impressive pool, on-site amenities, good location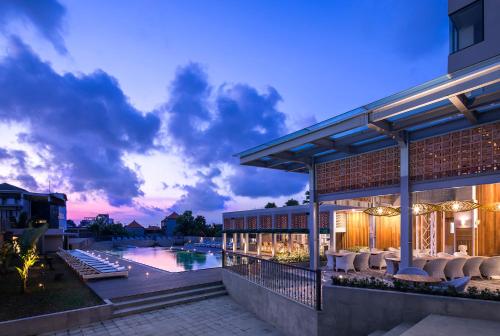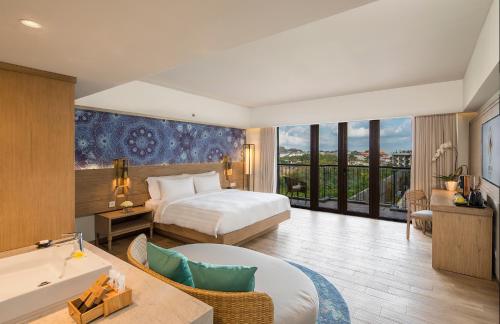 Also just a short walk from Echo beach, the Eastin Ashta Resort Canggu is known for its stylish decor, beautiful pool area, and convenient Canggu location. This is a newer place to stay in the area and guests love how fresh and clean the facilities are.
Have you been to Canggu? What was your favorite place to stay?
Planning a Trip to Indonesia?
Head to Booking.com or Agoda.com for the best deals on places to stay in Indonesia. Check out this post to decide where to go in Bali. You can also click the links to read about my favorite places to stay in Canggu and Labuan Bajo.
If you're traveling around Indonesia, this post has some helpful tips!
Check out these Indonesia travel blog posts for travel inspiration and tips!
You can also see the full list of things to do in Indonesia here!
Cover Photo by Taylor Simpson on Unsplash